Type of accommodation:
Apartment
Land: Italy
Region: Lombardy
District: Como
Vacation region:
Lake Como
Destination: Gravedona
Occupancy: up to 6 Persons
Living space: 70 mq
Floor: 0
Rooms: 3
Cod: 332
1 week 2 persons
from 735 € to 1015 €
Location information
Gravedona
Gravedona is one of the most beautiful places on Lake Como. The town of Gravedona offers you a beautiful beach with a promenade which takes you as far as Dongo, a pretty old town with many restaurants and bars and of course all the shops, and sporting facilities including tennis, sailing, windsurfing, motor boating, swimming, etc.
A very nice waterfront with ferry boats below the romantic backdrop of the old Palzzo Gallio. Some nice restaurants with outdoor seat ...[more]
Arrival and distances
Airfield - Km 90.0 - Bergamo
Airport - Km 110.0 - Malpensa
Beach - Km 2.8 - Gravedona
Ferry - Km 25.0 - Menaggio
Funicular - Km 35.0 - Argegno
Lake - Km 2.8 - Gravedona
Next place - Km 2.5 - Gravedona
Next town - Km 53.0 - Como
Restaurant - Km 2.5 - Gravedona
Shop - Km 2.5 - Gravedona
Station - Km 12.0 - Colico

Activities
Fishing | Mountaineering | Mountain Hiking | Biking | Boat Rental | Hang Gliding Paragliding | Bicycle Rental | Outdoor Pool | Golf | Jogging | Kitesurfing | Climbing | Mountain Biking | Cycling | Horse Riding | Sauna | Swimming | Sailing | Surfing | Tennis | Hiking | Watersports | Windsurfing | Water skiing | Bathing | Cycling | Casarina Taverna | Casarina Cantina | Casarina Pool | Casarina Mini Streichelzoo |
Type of holiday
Beach Holidays | Lastminute | Book now for 2018 vacation | Holidays with dog | Autumn holidays | House vacation on the lake | Holiday homes with pool | Holiday on a vineyard farmstead | Holiday with friends in a holiday home | Homes for seniors | Winter holidays | Expo 2015 ideal accommodation | Christmas and New Year | Valentine Day | Early Bird Summer | Walking holidays | Combine football World Cup 2014 and Holiday | Book now Pentecost holiday | Families with children | Holiday homes with Internet | Active Holidays | Special offers | Holiday House | Holiday Apartments | Rustic Cottage | Easter in the Sun | Spring Magic | Pentecost (Whit Sunday) | Day HIT Price | Spring holiday now! |
I am looking for an Apartment for my holidays in a destination like Lake Como, in a nice place like Gravedona. We are 6 people and we desire lodgings with at least 3 rooms and would be prepared to pay about 1000 € per week.
I have a dog and would like to take it with me whilst on holiday. I can not help it, but even on holiday I need to check my emails, and would require an internet connection. If there is a special offer which is currently available from which I can benefit now, this would be fabulous. During my holiday stay I would like to do sports such as Watersports in addition to relaxation.
Did I ask for too much? No, that can not be true! Because ... I think I have just found the one that suits me.
The sunny apartment Casa Barolo is located in the vineyard farmstead Casa Rina which lies on a scenic hilltop site above Gravedona with stunning panoramic lake views and has a pool.
From the outside stairs you arrive in the entrance hallway that connects to the two bedrooms and bathroom. The double bedroom located on the mountain side of the apartment has direct access to it's own garden with barbecue. Likewise, on the mountain side is a small bedroom with bunk beds and one single bed. The baathroom is situated on the garden side.
Through the hall you come into the living room with fireplace, sofa bed [200 x 90 cm] with side table and integrated open kitchen. From there you reach the balcony with a panoramic view of the lake.
The apartment has modern facilities with condominium comfort: satellite TV, dishwasher, washing machine, iron, 4-burner gas stove, refrigerator with freezer, coffee machine, toaster and WIFI Internet connection. Casa Barolo is distinguished by its particularly warm and sunny position which makes it suitable all year-round and it also has central heating and a fireplace. Firewood is charged at cost price.
From the large balcony you can enjoy a splendid view of Lake Como and the surrounding mountains.
A table tennis table and board games can be found in the tavern in the main building. In the traditional "Cantina", house wine and specialties from the area are available and on request the local baker will bring fresh bread to the house in the morning.
The general relaxation area with it's breathtaking lake view has also a pool [7 x 3.5m], sun terrace with sun loungers, patio, barbecue and pizza oven. There is also a gold fish pond, guinea pigs, dwarf rabbits as well as chickens specially for our younger guests to enjoy. The stunning location of Casa Rina gives inspiration for walking, hiking or biking, directly from the property.
Getting around without a car - you can walk to Gravedona in about 15 - 20 mins. and enjoy the beautiful lakeside promenade with numerous shopping facilities, attractive restaurants, bars and cafes. From the harbour you can have boat trips to other places around the lake. By car you reach Gravedona in 3-4 minutes.
There are enough parking spaces available above the property.
The vineyard farmstead Casa Rina is from 1724 and consists of four buildings with eight individual apartments, some partially renovated and some completely rebuilt in the original style. The property is located at about 200 m above the lake on a sunny terrace amid vineyards and former stone houses in Lombardian style. In the neighbourhood is a small waterfall. The special, quiet location with Riviera-like climate offers a fantastic panoramic view of the lake.
The former landowners have erected a Madonna-chapel in the grounds which is still preserved in its original condition.
Details Apartment Casa Barolo
Rooms and living arrangement
Bathroom - 1
Balcony - 1
Double-bed room - 1
Triple room - 1
Terrace - 1
Living-dining room - 1
open kitchen - 1

Equipment provided Apartment
General
Linen supplied | Dishcloths provided | Towels | Fireplace | Fireplace | Central Heating | Iron | Ironing Board |
Kitchen
4 ring stove | Gas stove | Dishwasher | Coffee machine | Toaster | Kitchen Combination | Refrigerator with freezer compartment | Dining table for 6 people |
Bathroom
Bidet | Shower | Towels | Hot water | Sink | Washing machine | WC | Laundry Drying Rack |
Bedroom
Double bed (180x200) - 1
Single bed (90x200) - 1
Bunk Beds (90x200) - 1

Living area
Side Table | Chair | Dining table with 6 chairs | Sofa bed |
SAT-TV -
Internet connection - kostenlos

External facilities
Balcony | Patio | Garden Furniture | Shared Garden | Grill | Barbecue Area | Parking | Pizza Oven | Sun loungers | Terrace | Communal Pool | Patio furniture | Dining table | Balcony Furniture |
Services
Children's bed | Highchair available |
Other
Family Friendly | Lakeview | Over Wintering Holiday | Directly at the lake (up to 3 km) | Up to 6 people | Pets allowed (on request) |
No Catering
Terms and conditions
Minimum rental period: Low season from 4 days, intermediate season and high season from 7 days
Arrival days: All days |
Additional information about rental and service:
Cleaning: 70 EUR
Linen: 1 Set/Person inklusive
Towels: 1 Set/Person inklusive
SAT-TV -
Internet connection - kostenlos
Deposit Euro: 100.00
Pet: 80 EUR / HAUSTIER
Heating costs: after consumption
Firewood: 6 EUR / PAKET
Included: Water, Power, Gas, Parking, Highchair
Supplement for stays less than 7 nights: 50 EUR
Travel Insurance:
Direct Online - complete the form - It is easy. Just click on the button:
Online - Insurance Form
Special offers
(It is not possible to combine special offers)
| | | | |
| --- | --- | --- | --- |
| | Last Minute | Valid for a booking from 7 days at a booking from 6 days before arrival | 10% reduction |
| | | | |
| --- | --- | --- | --- |
| | Special Offer | Valid for a booking from 7 days in the travel period between 10.02.2018 - 30.04.2018 | 25% reduction |
Request Price/Availability and online booking
Customers that have viewed this property are also interested in:
Casa Balbi
Casa Balbi is on a sunny terrace in Tabiadello high above Lake Como. This historic hamlet of Domaso offers a breathtaking panoramic view of the lake.
Casa Colombo Nesso Bilocale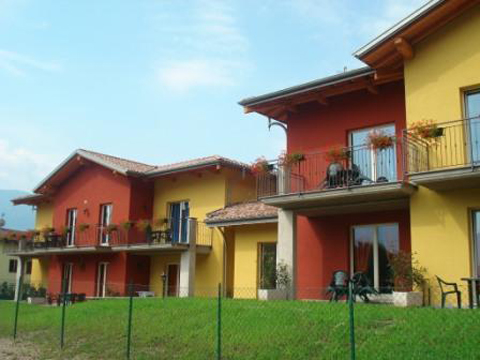 The bright 2 roomed apartment Colombo Nesso Bilocale is situated in Residence Colombo, a family apartment house with large pool, jacuzzi and large garden. The property is within walking distance of the lakeside.