Type of accommodation:

Land: Italy
Region: Lombardy
District: Como
Vacation region:
Lake Como
Destination: Vercana
Occupancy: up to 4 Persons
Living space: 22 mq
Floor: 1
Rooms: 1
Cod: 1706
1 week 2 persons
from 560 € to 560 €
Location information
Vercana
Vercana is a sunny, lively place on Lake Como with a good restaurant and small shops, only a 5 minutes drive from the popular resort of Domaso.
The former fishing village of Domaso with its picturesque fishing harbour offers you a beautiful long beach and a lovely old town with many restaurants and bars, disco and of course all the shops, and sporting facilities including tennis, sailing, windsurfing, motor boating, swimming, etc.
The village of Verca ...[more]
Arrival and distances
Airfield - Km 90.0 - Bergamo
Airport - Km 110.0 - Malpensa
Beach - Km 3.0 - Domaso
Ferry - Km 20.0 - Menaggio
Funicular - Km 35.0 - Argegno
Lake - Km 3.0 - Domaso
Next place - Km 3.0 - Domaso
Next town - Km 55.0 - Como
Restaurant - Km 1.0 - Vercana
Shop - Km 1.0 - Vercana
Station - Km 14.0 - Colico

Activities
Fishing | Mountaineering | Boat Rental | Hang Gliding Paragliding | Bicycle Rental | Fitness | Jogging | Kitesurfing | Climbing | Miniature golf | Mountain Biking | Cycling | Horse Riding | Sauna | Swimming | Sailing | Surfing | Tennis | Hiking | Watersports | Windsurfing | Water skiing | Bathing | Cycling |
Type of holiday
Beach Holidays | Lastminute | Luxury villas and holiday homes | Autumn holidays | Holiday homes with pool | Homes for seniors | Winter holidays | Christmas and New Year | Valentine Day | Early Bird Summer | Walking holidays | Book now Pentecost holiday | Families with children | Wellness Spa vacation rentals | Holiday homes with Internet | Active Holidays | Non smoking accommodation | Special offers | Holiday Apartments | Easter in the Sun | Spring Magic | Pentecost (Whit Sunday) | Day HIT Price | Lastminute Tips | Spring holiday now! |
I am looking for an for my holidays in a destination like Lake Como, in a nice place like Vercana. We are 4 people and we desire lodgings with at least 1 rooms and would be prepared to pay about 600 € per week.
I have a dog and would like to take it with me whilst on holiday. I can not help it, but even on holiday I need to check my emails, and would require an internet connection. During my holiday stay I would like to do sports such as Hiking in addition to relaxation.
Did I ask for too much? No, that can not be true! Because ... I think I have just found the one that suits me.
Details Casa Melissa Magnolia
Rooms and living arrangement
Bathroom - 1
Four-bed rooms - 1

Equipment provided
General
Linen supplied | Towels | Central Heating | Shared washing machine | Heating |
Kitchen

Bathroom
Shower | Towels | Hot water | Sink | WC |
Bedroom
Sofa bed for 2 persons - 1
Double bed (160x200) - 1

Living area

SAT-TV - 1
Internet connection - 1

External facilities
Car parking |
Services

Other
Non smoking property | Lakeview | Up to 4 people | Pets allowed (on request) | Directly at the lake (up to 2 km) |
No Catering
Terms and conditions
Minimum rental period: 1 days
Arrival days: All days |
Additional information about rental and service:
Towels:
SAT-TV - 1
Internet connection - 1
Deposit Euro: 100.00
Pet: 10¤/Tag
Included: Cleaning, Water, Power, Gas, Linen, Parking, Crib, Highchair, Heating costs
Travel Insurance:
Direct Online - complete the form - It is easy. Just click on the button:
Online - Insurance Form
Customers that have viewed this property are also interested in:
Casa Colombo Domaso Monolocale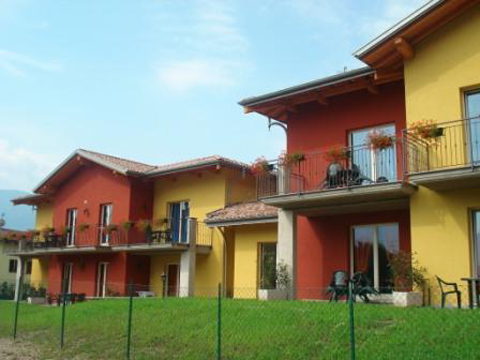 The modern 1-room apartment Colombo Domaso Monolocale is situated in the Residense Colombo a family apartment house which is located within walking distance from the lake, and has a large pool, jacuzzi and sunbathing area.
Casa Trebbiano
The cozy holiday apartment Trebbiano with a terrace is part of the vineyard farmstead Casa Rina in an extremely scenic location above Gravedona with stunning panoramic views and a pool.